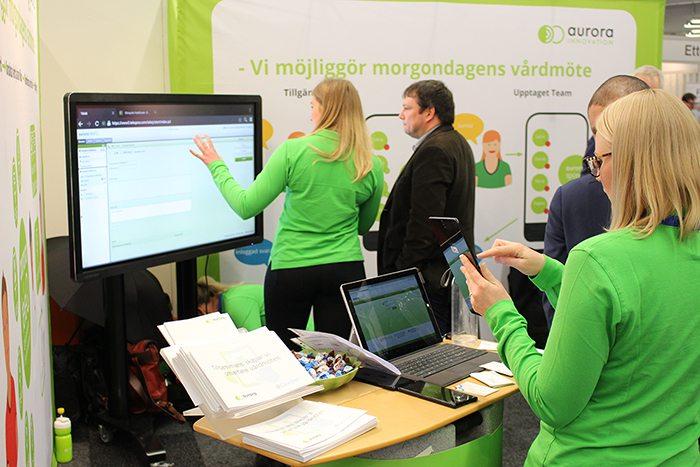 Tomorrow's healthcare at Vitalis
We enable tomorrow's healthcare
During three days Aurora Innovation participated at Vitalis, the biggest event in the Nordics with focus on e-health and tomorrow's healthcare. We had many interesting conversations with customers, partners and prospects. Among other things we got the chance to demonstrate how Aurora teleQ and Aurora spondi works. We also had the opportunity to describe how we through our digital platform for patient contact, are able to enable tomorrow's healthcare today.
Schedule at our stand during the event
We also invited representatives from our customer Capio and our partner Doctrin to give presentations at our stand during the event. The starting point for all presentations was our collaboration.  Daniel Olsson, CEO at Capio Närsjukvård AB spoke about how Capio has increased their availability.  After that Urban Jersby, project manager at Capio, shared how they've managed to digitalise their units. In order to get more of a user perspective Sara Stalén, nurse at Capio Healthcare Sävja, spoke. Her focus was the simplicity of working in a digital system. Last but not least Dr. Mattias Bernow, Chief Implementation Office at Doctrin AB, had a slot. He gave his view on how Aurora Innovation together with Doctrin is enabling for caregivers to prioritise, treat and follow up in a safe and digital way.
Do you have a question?
If you have a general question, feel free to use the form on the right. If you have a question about sales, partners or support, please select this form instead