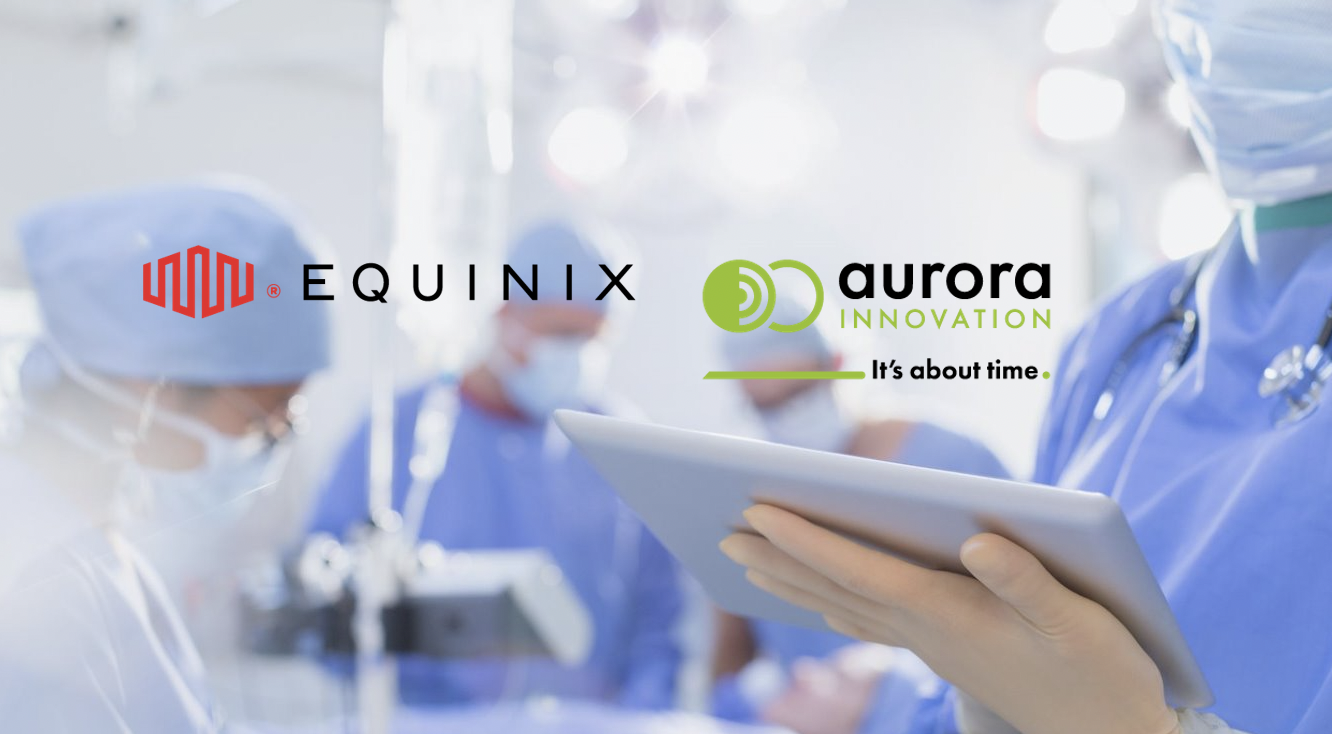 Healthcare Accessibility and Practitioner Wellbeing Addressed Across Europe
Equinix empowers Aurora teleQ to deliver more connected services for healthcare workers and patients, prioritising wellbeing
AMSTERDAM, Netherlands – May 11, 2023 – Equinix, Inc. (Nasdaq: EQIX), the world's digital infrastructure company™, and Aurora Innovation, a vendor of communication services and solutions for healthcare providers, today announced a collaboration to expand Aurora Innovation's capabilities across Europe. Focusing on improving patient access to healthcare services, and working environments for healthcare practitioners, the companies are utilising digital services to expand the availability of Aurora teleQ—a service that automates the communication flow between patients and healthcare providers, making everyday life easier for both healthcare professionals and patients.
According to the World Health Organisation (WHO), stress could account for 10 million health workers leaving the profession by 2030. However, better scheduling and a reduced administrative burden could help to reduce stress and associated burn-out, lowering the dropout rate from these essential roles.
"The importance of wellbeing at work is now more evident than ever. Wellbeing is a critical differentiator, enabling companies across sectors, including healthcare, to better retain and engage talent. For people to thrive, organisations need to offer wellbeing programmes and services tailored to the needs of critical work groups, while at the same time weaving wellbeing into the work itself through meeting norms, workspace and culture interventions. At Equinix, we are committed to growing a culture of wellbeing and are delighted to support Aurora Innovation in their quest to improve the wellbeing of healthcare practitioners, so they can do their best work and have an enjoyable, productive worker experience", explained Hebe Boonzaaijer, Global Wellbeing Director at Equinix.
Aurora teleQ helps improve working environments for healthcare professionals by providing a system to manage all patient contacts and access to medical histories through one user interface, regardless of the patient's preferred contact method. The structured call booking system enables healthcare workers—often facing challenging working conditions—to plan their schedule in advance and reduce phone stress. As a result, staff have more ordered workdays, and patients know when to expect a call, thus increasing the time available for each patient, and improving the quality of patient care.
"As Aurora teleQ's platform greatly reduces and automates overall incoming contact flows, healthcare organisations can boost their productivity at the point of care, ultimately ensuring increased availability as well as patient and healthcare staff satisfaction. Leveraging Equinix's digital services portfolio, Aurora Innovation can expand its work with healthcare providers across Europe, offering a secure and easy platform to simplify scheduling for healthcare professionals" said Tapani Kyrki, Chief Executive Officer at Aurora Innovation.
Aurora Innovation, headquartered in Sweden with services currently available in Finland, the Netherlands, Portugal and Spain, is working with Equinix to expand into new European markets and strengthen services available in existing territories. The resulting robust, decentralised digital platform—Aurora teleQ—offers a solution for managing patient contacts, simplifying and streamlining communication between patients and professionals, and enabling healthcare workers to respond to patients in a more efficient way.
"The transition towards digital healthcare in Europe will continue to grow with the adoption of new models of home care and telemedicine. At Equinix, we are pleased to be part of this process, helping companies like Aurora Innovation to harness the power of digital and expand their businesses, increasing access to solutions that can improve the wellbeing of both patients and healthcare workers alike", said Ignacio Velilla, Vice President, Global Managed Services at Equinix.
The flexibility and scalability of Equinix's Managed Private Cloud (MPC), means Aurora Innovation is now able to expand its services, as well as push for more growth in countries where it already operates. Equinix Fabric™ enables Aurora Innovation to connect its digital infrastructure and services on demand at software speed via secure, software-defined interconnection. This brings with it the ability to quickly scale capacity when required to deal with sudden surges of incoming traffic in different regions. By leveraging Equinix Managed Services to integrate everything on Platform Equinix® including higher network speeds, edge locations, and on-ramps to clouds, Aurora Innovation has been able to expand its business at pace.
"Secure and reliable communication channels are one of the most important pillars of our teleQ service. Equinix's extensive network of data centres securely connects Aurora Innovation with the regional telecom service providers we partner with, allowing us to deliver the most reliable tele-contact experience to patients and healthcare providers," said Per Thorsélius, IT & Service Delivery Director at Aurora Innovation.
Platform Equinix underpins the evolution of the Aurora teleQ service, providing predictability, resilience, standardisation, scalability, and security, to meet the current and future demands of healthcare provision. Equinix's commitment to using 100% clean and renewable energy is also in line with Aurora Innovation's mission to reduce its carbon footprint.
###
About Aurora Innovation
Aurora Innovation is a Nordic Market Leader, providing SaaS specialist communication tools for healthcare, dedicated to increasing access to care services and creating well-functioning work environments for healthcare professionals. Learn more—Aurora Innovation – It´s about time.
About Equinix
Equinix (Nasdaq: EQIX) is the world's digital infrastructure company. Digital leaders harness Equinix's trusted platform to bring together and interconnect foundational infrastructure at software speed. Equinix enables organizations to access all the right places, partners and possibilities to scale with agility, speed the launch of digital services, deliver world-class experiences and multiply their value, while supporting their sustainability goals.
Forward-Looking Statements
This press release contains forward-looking statements that involve risks and uncertainties. Actual results may differ materially from expectations discussed in such forward-looking statements. Factors that might cause such differences include, but are not limited to, risks to our business and operating results related to the COVID-19 pandemic; the current inflationary environment; foreign currency exchange rate fluctuations; increased costs to procure power and the general volatility in the global energy market; the challenges of acquiring, operating and constructing IBX and xScale data centers and developing, deploying and delivering Equinix products and solutions; unanticipated costs or difficulties relating to the integration of companies we have acquired or will acquire into Equinix; a failure to receive significant revenues from customers in recently built out or acquired data centers; failure to complete any financing arrangements contemplated from time to time; competition from existing and new competitors; the ability to generate sufficient cash flow or otherwise obtain funds to repay new or outstanding indebtedness; the loss or decline in business from our key customers; risks related to our taxation as a REIT and other risks described from time to time in Equinix filings with the Securities and Exchange Commission. In particular, see recent and upcoming Equinix quarterly and annual reports filed with the Securities and Exchange Commission, copies of which are available upon request from Equinix. Equinix does not assume any obligation to update the forward-looking information contained in this press release.
###
Media Contacts
Equinix Media Relations                 Equinix Investor Relations 
Do you have a question?
If you have a general question, feel free to use the form on the right. If you have a question about sales, partners or support, please select this form instead