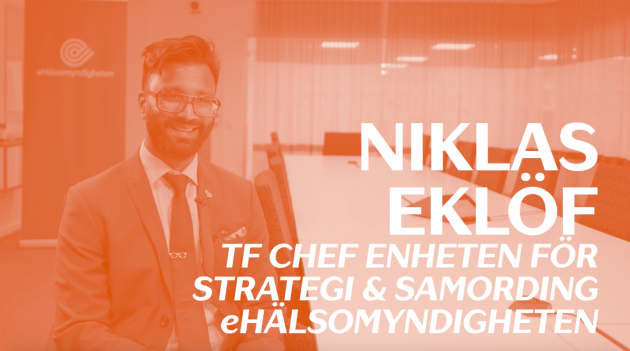 Future Healthcare – How do we increase availability in Healthcare
The Swedish government has set a goal for Sweden to be number one at eHealth by 2025. Swedish healthcare ranks high internationally in medical results, but lower in continuity, patient involvement and availability. The Swedish government want a strong primary healthcare sector to be a key component in creating a modern healthcare system, where eHealth will out the patient in focus and increase accessibility.
Niklas Eklöf, Director of the Strategy and Coordination Unit at the Swedish eHealth Agency, believes that we are now entering a new era of digital opportunities.
"There will be a big difference between digital availability and physical availability", says Niklas Eklöf.
Gustaf Leijonhufvud, Doctor and board member at Aurora Innovation, outlines two key factors for more effective meetings and increased accessibility in the Healthcare sector.
"Digitalisation in terms of technology is an important factor, but what's crucial is how we in the healthcare sector will work with the new technology", says Gustaf Leijonhufvud.
Watch Niklas Eklöf – Swedish eHealth Agency, Marit Bengtson – Capio and Gustaf Leijonhufvud – Doctor and board member of Aurora Innovation talk about the Future of Healthcare.
Capio's Primary Healthcare centre Västra Hamnen in Malmö has made a fantastic journey in digital availability. Thanks to training and support in the use of Aurora teleQ, Aurora Innovations digital platform for patient contact, they have increased availability from 65% to 98% in just a few months. Marit Bengtson, Head of Operations at Capio Västra Hamnen, has together with her colleagues managed to reverse the downward trend in availability.
"I see a big benefit because we can use one system for multiple contact channels. Linking this system to a triage-tool that the patients themselves fill in increases the quality of care meetings", says Marit Bengtson.
Aurora Innovation is constantly working on developing availability-solutions based on the needs of Healthcare and patients. This autumn, we launch Channel Change in Aurora teleQ, our digital platform for patient contact. This new feature makes it possible to change from voice call to video call in just a few clicks. This is just one of our focus areas to help increase availability in healthcare and make it more patient-centric.
For questions please contact:
Petra Månsson
Aurora Innovation – Marketing Manager
+ 46(0)722 371 501
petra.mansson@aurorainnovation.com
Do you have a question?
If you have a general question, feel free to use the form on the right. If you have a question about sales, partners or support, please select this form instead