Most nurses say Aurora teleQ improves workflow and calms down the working environment
Aurora Innovation's customer survey, conducted in Finland, reveals that the Aurora teleQ system brings great added value to healthcare professionals.
The survey was sent to the employees of Finland's well-being services counties who use Aurora teleQ in their work. More than 1,300 basic healthcare and dental care professionals responded to the survey, with roles varying from nurses to doctors and secretaries. About two thirds of the respondents work as specialized nurses, basic care nurses or X-ray nurses. 
According to survey results, the majority of users find that teleQ improves workflow. The question collected an average score of 4.2 out of 5. Most respondents say that teleQ also brings clarity to work tasks, makes daily work easier, calms down the working environment and improves patient care.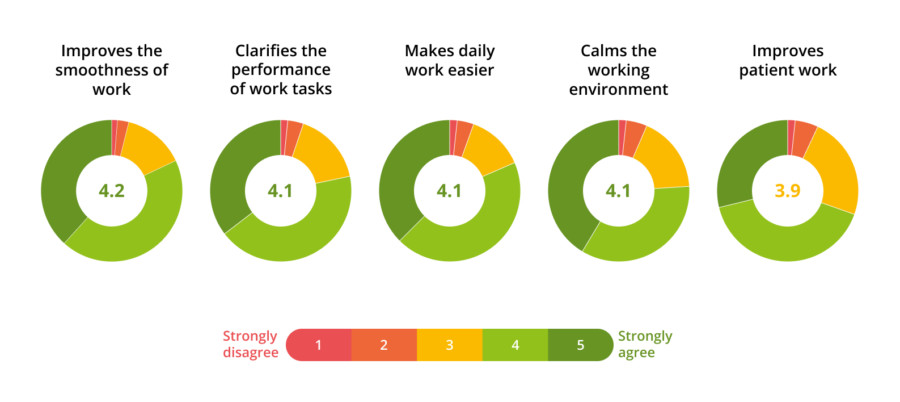 Aurora teleQ is used, for example, to clear up overloaded phone queues. During exceptionally busy times, customers may have to wait for a callback for several days. Aurora teleQ makes healthcare services more accessible through, for instance, scheduled callbacks and multiple communications channels. After a callback request has been made, the healthcare center contacts the customer and guides them forward on the care path.
"Aurora teleQ makes the everyday work of healthcare professionals easier and makes the workflow more efficient. With the callback system, calls are divided evenly throughout the day, and the included data report helps organizations predict spikes in callback requests. This enables organizing the work more effectively and to optimize resourcing," says Toni Kivinen, Country Manager of Finland and the Baltics at Aurora Innovation.
The data also helps to schedule breaks for quieter times.
"Solutions like Aurora teleQ are key for well-being at work. There has been an exodus of nurses from the care sector for a long time, and being overloaded with work is one of the biggest reasons for it. The excessive workload is often caused by numerous different tools that do nothing to improve efficiency. Aurora teleQ helps healthcare professionals feel better and work more efficiently," continues Kivinen.
The survey results show that almost half of the secretaries give teleQ a full score in the workflow question. The secretaries also gave a higher than average positive score for the "How would you estimate that teleQ impacts your work environment?" question.
"Most of the secretaries who responded to the survey work in public healthcare. Often, they work on managing patient care and time-consuming paperwork. The status of their workflow impacts their colleagues' and patients' experience greatly," points out Kivinen.
Based on the NPS results, managers value Aurora teleQ highly.
"Resourcing hectic work and organizing the daily work tasks are some of the most important tasks in leadership in the healthcare sector. It is exactly these kinds of matters where we want to support professionals to the best of our ability and it is fantastic to get such positive feedback from managers."
"We also got a lot of open feedback and development suggestions from more than 800 people. We've received exceptionally good feedback from a couple of well-being services counties in the north and northwest of Finland. We will go through the open feedback carefully after which our account managers will discuss further development personally with our customers", says Kivinen.
Last year, Aurora Innovation used the results of the customer survey to develop new kinds of content, such as quick guides, and also developed customer support processes further.
"Similarly, all the feedback we've received this year will be taken into account in the development of our service."
 If you have any questions feel free to contact us.
Do you have a question?
If you have a general question, feel free to use the form on the right. If you have a question about sales, partners or support, please select this form instead