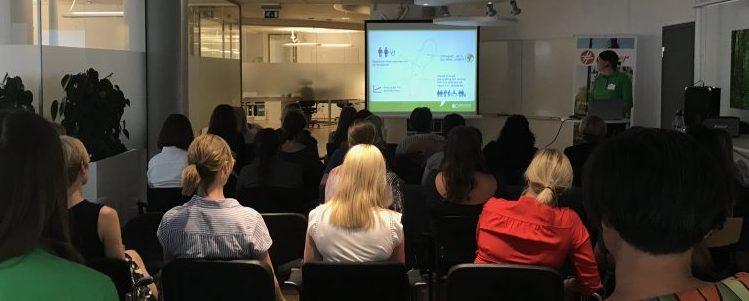 Health in focus during #addher event
Last night Aurora Innovation hosted a meeting for the network #addher, Sweden's largest network for women in IT with over 3,500 members.
As we develop IT products with a particular focus on increasing accessibility in healthcare, the focus of last nights networking was to enlighten and increase women's knowledge about eHealth.
Kristina Engdahl, Product Manager at Aurora Innovation, talked about the latest trends in eHealth in Sweden. She showed a demo of our products that helps patients and improves the working situation for healthcare professionals. Milla Leskinen, WeMind's psychologist, was the second speaker for the evening and she shared her knowledge about a sustainable work life. How do we avoid being burned out?
In addition to the interesting speakers, we were able to enjoy a healthy sandwich and smoothie and a quick tour around our office where we ran out to the inner yard and made some squats. Many thanks to all who helped arrange the evening, to Sogeti who made us host companies and of course to all participants!
Do you have a question?
If you have a general question, feel free to use the form on the right. If you have a question about sales, partners or support, please select this form instead