Improving dental clinic availability with Aurora teleQ
The effective management of patient calls and appointments is a crucial aspect of running any successful dental clinic. Smile, a dental clinic located in the heart of Västerås, Sweden was facing several challenges in their availability to manage patient calls and appointments, leading to missed calls and appointment conflicts. 
Smile Västerås has a team of 30 employees and 17 rooms, making it a large-scale dental clinic. Freeing up time for breaks and communication between colleagues was essential for maintaining an efficient workflow and increasing availability for their customers.
To address these challenges, Smile implemented Aurora teleQ to enhance the way they handle patient calls and appointments. TeleQ is a versatile and adaptive system that has significantly improved the clinic's availability which was approximately 55% in 2021. After the teleQ pilot, as of January 2023 the clinic's availability is 94%. The results are a better workflow resulting in fewer missed calls, improved scheduling, and happier patients.
Increased availability
Josefina Sohlberg, one of Smile's administration staff members, recently discussed the impact of teleQ on their clinic's operations. Josefina, the main admin and staff trainer for teleQ spoke about how the system's adaptability has been beneficial for Smile. She shared her experiences of training her colleagues to use teleQ and how it has improved employee satisfaction.
"Prior to using teleQ, we felt a high degree of stress in wanting to be there for our patients, and not having the time to handle all the incoming calls. One of the primary benefits of teleQ is its ability to reduce missed calls and improve scheduling efficiency. This is particularly important in a dental clinic, where patients are often in pain and require immediate attention."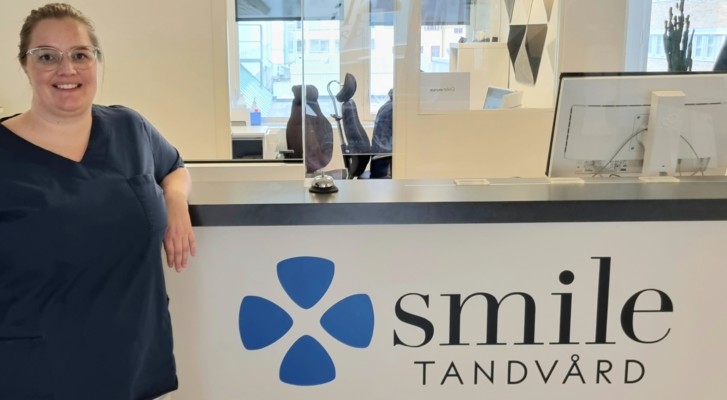 Josefina Sohlberg, main admin and staff trainer for teleQ at Smile
With teleQ, the clinic has been able to schedule appointments more efficiently and increase their availability for customers. It's also made a difference amongst the clinic's colleagues where they're able to have a break, enjoy a coffee together and have time to see one another.
"For the staff, knowing when they can have a break has made a big difference in our employee satisfaction and work atmosphere."
SMS messaging is another helpful tool that teleQ provides for patient communication. The system allows for quick and easy messaging, reducing the need for patients to wait on hold or be put through to a busy receptionist. This has improved patient satisfaction and has also reduced the burden on the clinic's receptionist.

Adaptability and customer retention
Availability is crucial for customer retention and expansion. Smile recognised the importance of tailoring their services to meet patient needs, and Aurora teleQ provides them with the adaptability to do so. Customer retention becomes even more challenging especially during economic pressure.
Tailoring services to meet patient needs and providing an effective experience is crucial for retaining customers. For example, automating patient numbers and appointment linking could also improve efficiency and help the clinic's availability.
TeleQ has proven to be a valuable asset for Smile, streamlining their operations and improving their availability. The system's adaptability, digital accessibility, and patient-focused approach has made it easy to adopt and tailor to what the clinic needs for its customers. What the Smile Group appreciates working with Aurora Innovation is the team always provides several solutions to a given problem. In the near future, there's plans to increase pilots and work towards better availability for their clinics and customers.
Do you have a question?
If you have a general question, feel free to use the form on the right. If you have a question about sales, partners or support, please select this form instead