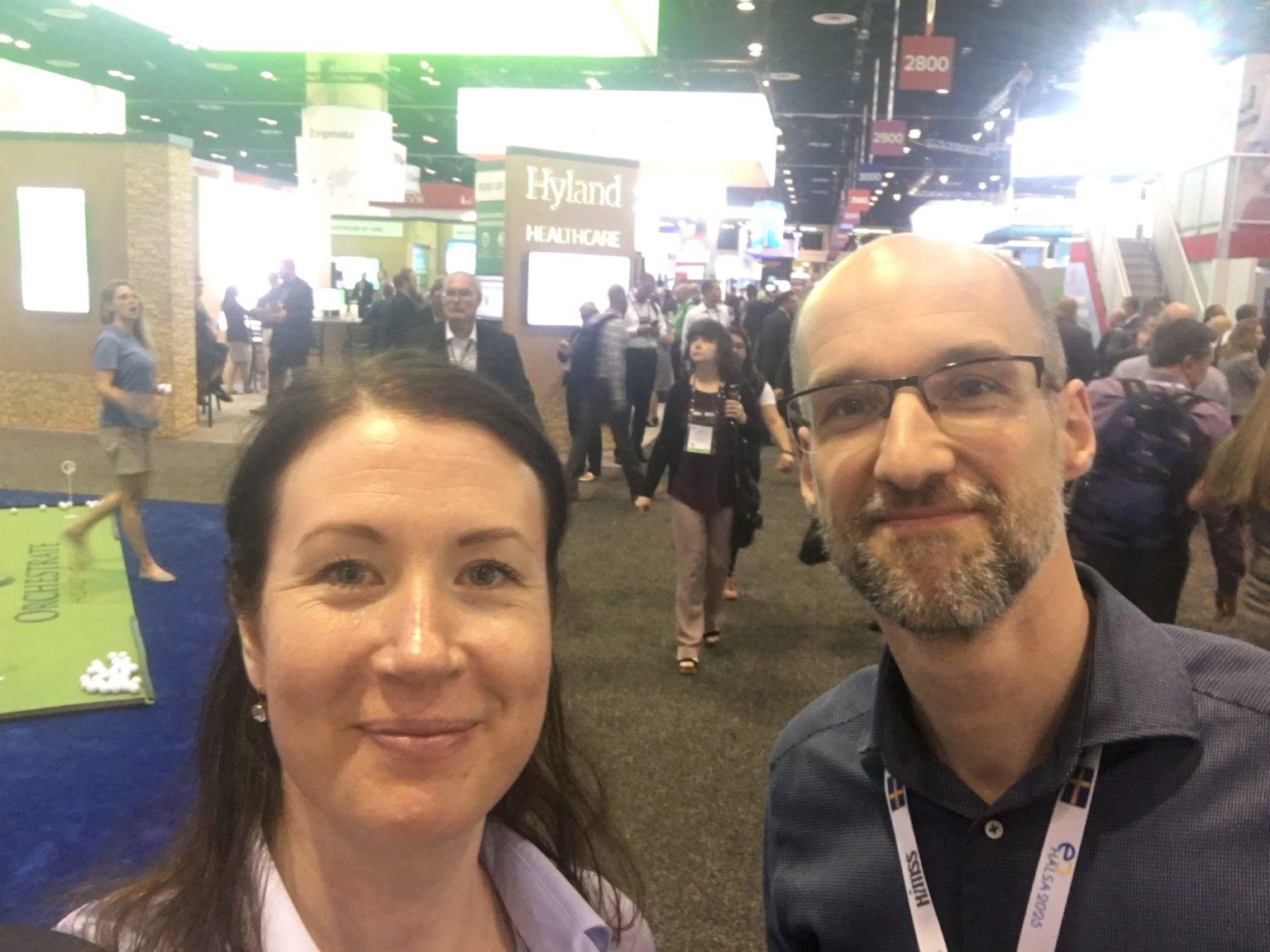 HiMSS 2019 – One step closer to the digital transformation
Once a year HiMSS hosts the worlds biggest conference within IT and healthcare. It's held in Orlando and more than 45 000 people from 90 countries attend. Sweden joined this year with a delegation of 120 participants. Among that group were politicians, representatives from government agencies, clinics, IT-specialists and suppliers. All working towards the same goal. To learn and cooperate to make sure the healthcare sector thrives in the future.
Aurora Innovation participated in the Swedish delegation with two representatives, Henrik Westerberg, Vice President and Development Director and Petra Månsson, Marketing Director. To get a broader view of all the impressions from HiMSS we interviewed some of the other participants from the Swedish delegation. You can see those clips with English subtitles on our YouTube channel or LinkedIn 
These are my (Petra) answers to the same question I asked in the interviews.
Why did Aurora Innovation choose to attend this year's HiMSS?
Aurora Innovation has been helping the healthcare sector to improve availability for more than 20 years. With a vast knowledge regarding healthcare availability, we realise a transformation is needed and it is driven by the demographical challenges we know are coming. This means we will shortly have too few people of working age while a majority of the population will need care. Aurora Innovation want's to be a part of the digital transformation needed to help healthcare adapt to these challenges.
What is the biggest challenge facing healthcare this year and what insights are we bringing back home with us from HiMSS?
The main topic of conversation at this year's HiMSS was the new interoperability bill that was announced that same day in the US. For a long time it's been up to each supplier to push the digital transformation forward. Many of the big companies within the healthcare sector in the US have had a lot to gain by keeping their data behind looked doors. This new bill means that healthcare providers would be forced by law to share their data digitally. Both with patients and other caregivers who might need it to be able to better diagnose or treat a patient. This would accelerate the development and give the patients a higher level of participation.
If availability of data is one of the key elements needed to a digitalised healthcare, the other key is leadership.  The theme for this year's conference was "Champions of Health" – meaning someone who can shoulder the responsibility of moving the healthcare sector forward. To succeed we need champions of health on all levels. There needs to be champions in all parts of the healthcare sector who are willing to challenge themselves and their colleagues. We need healthcare managers who can lead their employees towards an integrated digitalisation. Medical doctors who can train their patients on having accountability over their own health. Politicians who understand the benefits of a more digitalised healthcare sector.
I am convinced that even we, as suppliers, need to take on a bigger responsibility. Both in training and in informing our clients. It doesn't matter if we are competitors or partners since we're all working towards common goals.
HiMSS offered AI, Machine Learning and bad coffee
To get from one end of the conference hall to the other you needed 30 min, and that's only if you didn't stop at any of the booths. There was a never ending amount of bad coffee needed to stay on top of things while you made your way through it all. A lot of the technology on display was about how we in an efficient manner can draw conclusions from large amounts of data. Some of the trends we saw at HiMSS regarding this had to do with AI, Machine Learning and Deep Learning.
The company Nuances were showing their product Dragon. It's a Speech-To-Text software that understands spoken words and extracts the sentence to interpret it into a clinical expression. Parts of Dragon are already used at some clinics in Sweden. However it's predicted to get even sharper with the aid of Deep Learning. Speech-To-Text will have many benefits for healthcare staff by helping them to their job more efficiently.
Within the same area Amazon's Alexa  Mayo Clinic (one of the largest non-profit academic healthcare providers in the USA with a commitment to clinical practise, training and research) has partnered to produce a First-Aid library. Through this library you can ask your Alexa device everything from "how do I treat my baby's fever" to "how bad is my burn?". Today this is only available in the US. However my guess is that it'll be on the European market shortly.
AR, Augmented Reality, is another rising trend within e-health. Midivis is one of the many start-ups within this area. They offer different products related to AR and AI. Their software is used in many ways. One way is to enhance the learning regarding human anatomy where there's great benefits for training within healthcare professions. Another way is for more specialised surgeons to use AR and AI to get superior knowledge, understanding and precision for each patient.
How do we move forward?
The technology already exists and it's being pushed further each day in order to keep enabling a digital transformation of the healthcare sector. What should be on the agenda for 2019 is to create national standards for interoperability. This will help both the healthcare sector and the patient. It's not until we have that common foundation to work from that we can start to see a breakthrough for the type of technology that is already out there. That's when we can truly start moving towards our goals of a healthcare sector that thrives even through demographical challenges.
Behind the keyboard,
Petra Månsson
Aurora Innovation – Marketing Director
Do you have a question?
If you have a general question, feel free to use the form on the right. If you have a question about sales, partners or support, please select this form instead