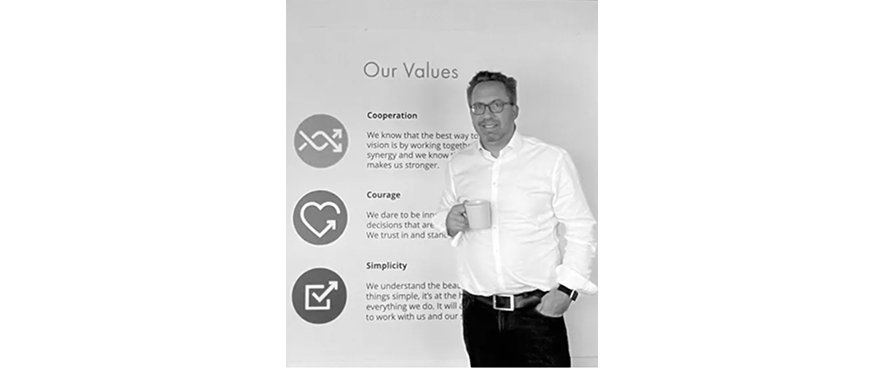 Per Savander's career story: Versatility and customer satisfaction are excellent work motivators
In this blog series, we're sharing career stories from Aurora Innovation employees. Key Account Manager Per Savander is an experienced customer service, project management and sales professional. He also enjoys cooking in his free time! 
Over the years, Per Savander has gained a wide variety of experience in sales, project management, customer service, and problem solving from multiple different fields, such as insurance, media, technology, and finance – whether in startups or multinational companies.
Per joined the Aurora Innovation team in April of 2022. He was advised of the job opening, and the description sounded appealing.
"I wanted to work in a smaller company and be as close to the core business as possible. Working with customer relationship management in a versatile and holistic manner is close to my heart. At Aurora, we help make the everyday lives of healthcare professionals simpler. We make the use of resources more efficient, which is important both in private healthcare and especially in public healthcare that is funded by tax money," Per explains.
Versatility, importance and happy customers inspire Per
At Aurora, Per's job is to ensure that Aurora's current customers are getting high-quality service and make sure that the services Aurora offers are developed further according to the customers' needs. The structural reforms in social welfare and healthcare bring a lot of changes to the customers' everyday lives. This also leads to the need for change.
"I'm regularly in contact with our customers, asking them how they're doing and if we could help them by expanding our services or offering them consultation or training. I, of course, also do sales and marketing. I think it's important to find a balance between different duties. The versatility of this job is what I like most."
Per describes the working culture at Aurora Innovation as open, solution-based, and caring.
"In addition to caring about our customers, we care about each other. Our job is of high importance: we help healthcare professionals do their job more effortlessly by making their working environment more calm and efficient, which then makes it easier for patients to get treatment and improves the employees' wellbeing. The thus saved resources can then be used in a more efficient manner to help the patients."
Per emphasizes the meaning of making people's everyday lives easier.
"Our solution is built by taking the effortlessness of healthcare processes into account, and our customer satisfaction is on a high level. Our employees in Finland are extremely professional and competent, and the company is growing at a steady pace all over Europe", Per says.
He believes that the most efficient way of working is planning what to do in a small group, binding the decision-maker as the sponsor of the project, and carrying out the project in a quick and high-quality manner.
"With time, this leads to an efficient working culture like the one we have at Aurora. It makes every workday special. When it comes to customer projects, authentic interest and dedication in the project and constant development work are key. We make the improvements and implementations together – like we're part of the same organization."
Cooking and nature excursions in spare time
Per's entire family is into cooking. In the summer, Per also spends a lot of time in the lap of nature, where they have a small cottage that was built in 1870.
"The islets in the Finnish Archipelago Sea and boating are an important part of my summers. Our family is quite adventurous, and the Alps are one of our favorite destinations. Where there are hiking routes and nature trails, you'll likely find some Savanders!"
The adventurous Savander pack also comes with the two family dachshunds – Agi and Sven.
Har du en fråga?
Om du har en allmän fråga, använd formuläret till höger. Om din fråga är relaterad till försäljning, partners eller support, använd detta formulär